ABOUT US: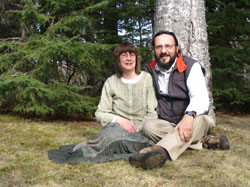 We are fortunate enough to live surrounded with the beauty of the North Shore of Lake Superior in our front yard, and the Superior National Forest in our back yard, which has inspired me to study, develop and produce, all natural healthy alternatives for your skin care products. Our products are handmade in small batches, with synergistic harmony and purpose, using quality essential oils, herbal infusions and all natural oils and butters. I have chosen specific essential oil blends for each of the soaps, lotions and face creams for a variety of skin conditions.
We purchase our ingredients primarily from reputable women owned businesses, wildcraft our plantain and heal-all from the forest near our home, and grow our own calendula, lavender and comfrey (organically, of course).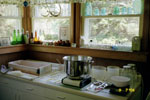 I began this business in 1999, after leaving a long-term position as the Director of a local elementary school and community center facility, for a non-profit organization. I was looking for a way to make a living doing something that made my heart sing. I began studying about and experimenting with herbal medicine and essential oils. I took my first soaps to Great Gifts in Lutsen, and my journey began. Along the way, some very special people came into our lives that brought Superior Herbals out of our own back yard.
Sincere gratitude and thanks go out to Liebertz/Ellis Ventures, who believed in my products, and got our products out beyond the North Shore. Voltaggio/Johnson, a packaging and design firm, came along and added the professional and beautiful look to our labels – there are no words that can convey our thanks for everything they have done. We also want to thank Dave of Border Designs, from right here in Lutsen. He is an excellent craftsmen and woodworker, who worked with us to build the beautiful wood soap display units we have in most of our retail locations. Finally, our thanks to Krishna who was able to work with me and put this awesome web site together and get us on line at last! Last, but not least, there is my husband and partner Steve, without his support and daily help with everything from sales, mixing, filling, cutting soap, labeling jobs and so much more – I would not be able to keep up.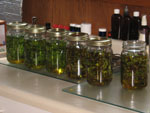 We love every aspect of doing this and hope the customer feels the joy we put into each product. It is our job to clean up this world, one bar of soap at time. We look forward to your support!
You can find our products at our Retail Suppliers, on our Etsy site, or by Contacting Us directly.
Wholesale inquiries are also welcome.
Read About Us
Read the articles in the Seward Co-op Sprout Newsletter.